On Friday, 22 June 2018 4PET Recycling invited to its recycling plant in Duiven (Netherlands) to the opening of their new recycling line for PET trays! The new tray-to-tray PET recycling line is one of a kind and the first to be operated world-wide. The opening event with the name "creating circularity" was a huge success and shows the right direction for PET recycling.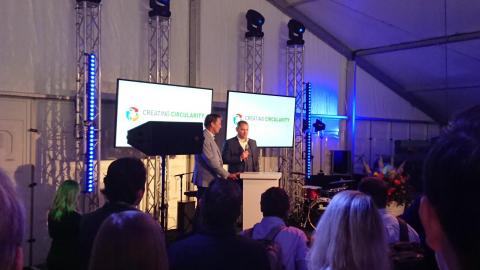 Petcore Europe welcomes this unique initative by 4PET that brings our industry one step closer to circular PET and to our objective of recycling more and more PET packaging.
The project shows that the PET industry is committed to recycling various PET packaging. In fact, there is an annual overcapacity of around 300 000 tons of PET in mechnical recycling facilities in Europe. That is why Petcore Europe is currently in contact with the European Institutions to promote improved EU-wide collection and sorting of PET packaging.
Among the guests in Duiven were not only local authorities and NGOs but associations of the entire PET value chain - including several members of Petcore Europe. Rik de Lange, Mayor of Duiven welcomed the initative of 4PET calling it a truly circular project that paves the way for a more sustainable future.