Early 2018 the European Commission launched A European Strategy for Plastics in a Circular Economy with ambitious targets for the plastics industry:
All plastics must be recyclable by 2030
50% of plastics must be recycled by 2025
55% of plastics must be recycled by 2030
PET Commitment to the EU Commission
PET is best in class, that is why the PET value chain set itself voluntarily even higher targets.
The PET industry will...
focus on the overall objective: 100% recycling of collected PET packaging material.
commit to 65% recycling and reuse of PET packaging material collected by 2030 (amongst which 30% of closed loop)
continue to commit to improve the Circular Economy by influencing the conditions for appropriate EU and national legal frameworks.
develop the requirements for all converters and brand owners to endorse and apply current as well as future Design for Recycling guidelines.
influence and demand that EPR schemes will provide stable and standardised, quality sorted PET baled streams.
cooperate in finding innovative solutions or remove obstacles for the use of standard recycled qualities.
cooperate to develop a positive contribution outside Europe using the established tools in the value chain.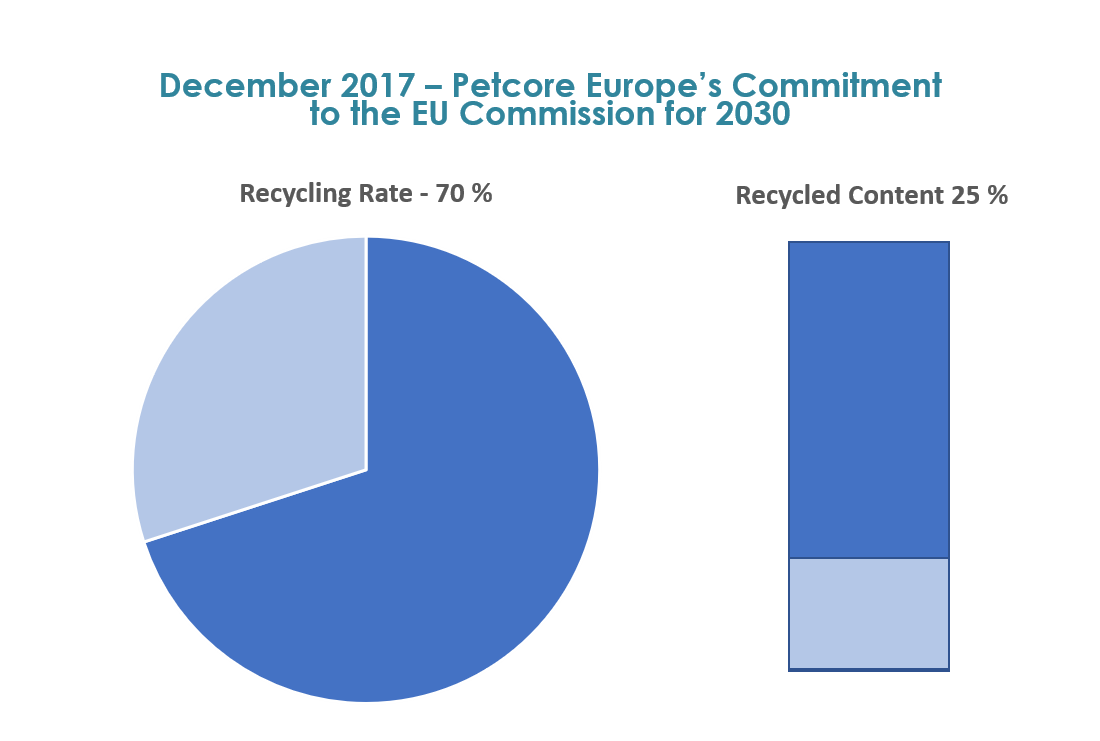 Petcore Europe Pledge to the EU Commission
In addition to the voluntary commitment, Petcore Europe submitted a pledge in December 2018.
Recycled PET Consumption ~ 1.23 mio tonnes in 2017 | Target to increase to ~ 2.0 mio tonnes by 2025
Conditions for our Commitment and Pledge
Final SUP Directive Consequences
Appropriate European, regional and national harmonized legal frame for collection
Petcore Europe / EPBP PET bottle design guidelines and protocol to be adopted by packaging manufacturers and marketing brands
Compliance Agencies, EPR Schemes, Governments, Countries being in a position to provide suitably sorted PET waste streams